Last week i had a wedding in La Cala Golf Resort. I did the make up on the bride, her sister, her mother and the groom's mother!
The bride and groom had come all the way from Canada to get married here. Originally they are from Ireland, so to make it easy for friends and family in Ireland; they decided to have the wedding on beautiful Costa del Sol!
Costa del Sol really is a perfect place to have your wedding. Whatever location you're after, you'll definitely find it here… Beach, mountains, breath-taking views, always (nearly) sunny, amazing villas and hotels, golf clubs, you name it!
Just look at the view from La Cala Golf Resort!

Unfortunately, I didn't get any "in the making" photos but I will post photos as soon as I get some from the photographer!
Just as i was about to leave, i heard the ceremony starting so i did manage to get this one photo! Not that you can see the make up, but you can see what a beautiful place it is! =)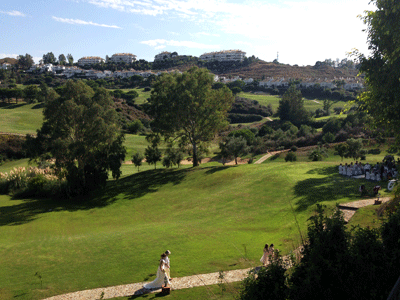 Charlotte x